Welcome to Year 6
Our classes are all named after books written by Michael Morpurgo. Miss Dixon's class is called Silver Swan, Miss Blassberg's class is called Butterfly Lion and Mrs Ferrison's class is Kensuke's Kingdom.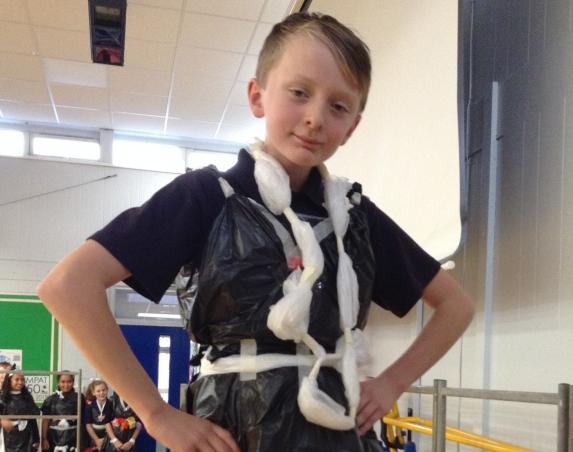 As part of our work in English on The Boy In The Dress, the children have designed, created and modelled their own dresses. We were really impressed with the catwalk show! Vogue!
After a good night's sleep, we enjoyed breakfast before getting ready for a busy day. The groups went off to take part in canoeing, gorge walking and caving.
When we got back to the centre, we tucked into a meal of spaghetti bolognese, rice pudding, yoghurt and fruit. Yum! We then took part in a variety of team games before having hot chocolate and heading to bed.

The following day, the groups all headed off to their next activities. The weather was glorious. The children enjoyed canoeing, jumping from waterfalls and completing many challenges in the cave. We had sausage and mash for dinner and afterwards we had a carousel of activities including the cereal box games, visiting the shop and the can challenge.

On Thursday, the groups completed their final activities. We were so proud of all of the children and their determination to succeed. In the evening, we packed and enjoyed curry for dinner. We had a very entertaining Longtown's Got Talent with lots of the children showing off their dancing, singing and comedic talents.
Year 6 Curriculum Letters