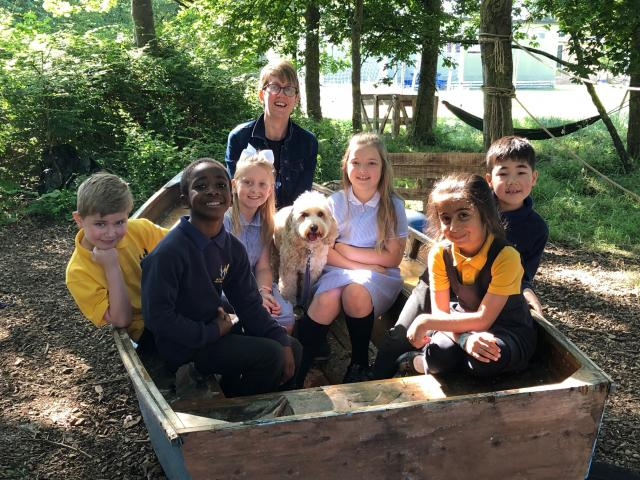 Details

Hits: 40
It has been a really busy and amazing week at school. It has been lovely to welcome back some pupils from Reception, Year 1 and Year 6. Everyone has been starting the day with some sort of PE activity from Yoga to Zumba and Joe Wicks to PE with Isla! Year 3 have been put through their paces by Isla who has been keeping them on their toes creating her own workouts!
All year groups have been working hard and enjoying lots of different activities.
Reception have been basing their work around the story, 'What The Ladybird Heard' and have spent lots of time at Forest School and even created an agility course for Luna.
Year 1 have been busy measuring in lots of ways, creating and painting lettering for their outside area, learning how to play together whilst keeping a safe distance and making dens.
Year 2 have been working on 'The Lighthouse Keeper's Lunch'. They have followed a set of instructions and made jam sandwiches. They have had a go at writing their own instructions and have been drawing their own seagulls.
Year 3 have been learning about the Celts. They have been finding out about the Celtic warriors and their use of limestone to make their hair stand up and the different patterns that they would paint on their bodies.
Year 4 have been learning about the Titanic. They have made their own boats and floated them. They have also created some bee hive paintings and some amazing pop art.
Year 5 have been very busy sorting out our library and they have done an amazing job. They have also been learning about Macbeth.
Year 6 have based their English work on the board game, Cluedo. They have created their own game boards using area and perimeter. They have designed one room, investigated the characters and produced party invitations. In Science, they have been creating their own reebots and in art have started work on their own Doc Marten!

Phew!
Details

Hits: 69
Another day and another workout with Joe. Some Cosmic Yoga in Year 1 and 2 to start the day too.

We have been busy Sentence Stacking with Mrs Considine. If you didn't get chance to see today's teaching on the video, Brush: A Fox Tale , here it is:
Brush: A Fox Tale :
Teaching:
Miss Garner's Story of the Day today is Gus' Mum by Mrs Mason. Thank you Mrs Mason and Miss Garner!
Early Years have been learning all about worms today. They have been looking at where worms live and their habitats. They have been using worms to look at length too. Year 1 and 2 have been busy looking after their plants and writing poems about them. Year 3 and 4 have been continuing their work on The Day The Crayons Quit. Today they have been writing letters from Duncan to the crayons. Year 5 and 6 have been learning all about space today. This morning they have researched a planet and this afternoon they have been creating their own top trumps!